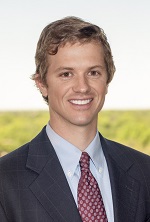 ---
Trip Neil
Partner
---
Mr. Neil has over 18 years of experience working in the commercial real estate and finance industry. As Partner at Churchill Capital Company, Mr. Neil raises capital and manages the underwriting and closing process for commercial real estate projects throughout America. He serves as a special advisor to the CEO, and manages Churchill's 3 largest clients, among others. Since joining Churchill in 2012, Mr. Neil has closed over 75 deals, a pace of more than 1 per month. Mr. Neil helped invent the proprietary capital program that Churchill uses today. Under Mr. Neil's guidance, Churchill's principal investment business has grown 10x during his tenure, and now accounts for 50% of all Churchill transactions.

Mr. Neil started his real estate career with Boxer Property, and has since worked in various capacities for Nomura -NY (Fixed Income), Capmark -NY (Principal Finance), and Jones Lang LaSalle -NY (Financial Analytics and Strategic Planning). He holds extensive experience in property ownership, debt and equity financing, and capital structuring in many asset classes across the country.

Notable Deal Transactions
Acquisition of Bank of America Tower, a 225,000 SF Class A office building in Plano, TX.
Acquisition of The Centre, an 817,656 SF community of office buildings in Dallas, TX.
Acquisition of Northlake Office Park, a 519,242 SF community of office buildings in Atlanta, GA.
Acquisition of 14.7 acres for development of a 130,000 SF Wegman's Food Market in Chapel Hill, NC.
Refinance of La Gran Plaza Mall, a 1.1M SF regional shopping mall located in Ft. Worth, TX.

Mr. Neil earned an MBA from Duke University, a BA in Economics from Johns Hopkins University, and a Professional Certificate in Real Estate Finance & Investment from New York University. Mr. Neil currently serves as the Captain of the United States Deaf Men's National Soccer Team and volunteers his time as President of the United States Deaf Soccer Association, a 501(c)(3) nonprofit organization (www.usdeafsoccer.com).